Caves in Baitadi Patal Bhumeshwor cave-Largest cave
Baitadi district contains a number of caves hidden from the world. Most of the caves are located in the main area of temples so everyone is not allowed to visit or look around these caves. That's the main reason why there are not being explored
Nagarjun Cave: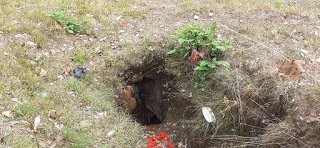 Nagarjun is a village located in Dasrathchand municipality which is about 30 Km away in the southeast from the headquarter of Baitadi which contains probably more than 10 natural caves. It is believed that they are almost two to three kilometers long are located in this Nagarjun village. The exact number of these caves is not known but there might be more than 10 caves. They have a narrow vertically downward opening. They start in a high hill aside Nagarjun Temple and are believed to end in water of Mahakali river. Some of them are very small in size that their diameter would not be half a meter also but some are big that a man can enter. The main point is that the caves are like a deep hole in the ground so no one has ever tried to enter the cave. It is really dangerous to go near to those caves. According to people living in this region, there are more than 10 caves. The tunnels are located on exactly the back of Nagarjun temple which is very important for people of this region. only Hindus people living in that region are allowed to enter the temple which may be one of the reasons why research is not conducted on these caves. A people should be Hindu living in that region and shouldn't have eaten anything that day to enter the temple. It takes about 2 hours to reach the Mahakali river from that temple on foot. So we can imagine how long they are. But no one is supposed to enter these caves. Baitadi contains many small and big caves. Recently the biggest and deepest cave of Nepal Patal Bhubaneshwari Gufa was found in Baitadi.
You May Like:- Temples are Being Destroyed in Baitadi Nepal
Largest cave of Nepal:
It was recently discovered that the longest cave of Nepal was in Baitadi all this time. Locally the cave is known as Patal Bhubaneshwari Gufa(पाताल भुवनेश्वरी गुफा ) meaning Patal Bhubaneshwar cave.
Patal Bhubaneswari cave:
This cave is located around the temple Patal Bhuvaneshwar also known as Patal Bhuvaneshwar cave temple. This cave is not just one cave, rather a series of caves within caves because the opening of the cave leads to a series of caves. Some parts of the cave are illuminated with electricity.
Related:- Least Known Facts About Nepal That Most People Don't Know
The locals were only aware of this cave but it was recently discovered nationally. This cave is considered to be the longest and deepest cave in Nepal. Though all the parts Patal Bhubaneswar cave are not explored still. The cave was found to be full of artistic illusions. The exploration team is still exploring the cave to make its map
Also, don't forget to check out this stunning article on Improving Communication Skills to Boost Your Business.