Division of Nepal into 7 Provinces – Administrative Division
Previously Nepal has been divided into Five Development Regions and 14 administrative zones which were further divided into 75 Districts.
On 20 September 2015 in accordance with the new constitution of Nepal, Nepal was further grouped into 7 federal provinces and 77 districts. The two districts Nawalparasi and Rukum were split among 2 provinces. The Rukum into Eastern Rukum District and Western Rukum District and the Nawalparasi into Parasi District and Nawalpur District. Therefore extending 75 districts to 77 districts.
The Seven Provinces of Nepal
The 7 provinces of Nepal with their Name capital and no of districts they contain as well as the general and important information about them.
1. Province No. 1
Province No.1 contains 14 Districts with its capital at Biratnagar and is the second largest province of Nepal in terms of Area.
2. Province No. 2
Province No.2 has its center at Janakpur District and is the smallest province of Nepal in terms of area. It includes eight districts from Saptari District in the east to Parsa District in the west. It is the second-largest province in terms of Population.
3. Bagmati Province
With its capital at Hetauda Bagmati Province is the largest province in terms of population. The province is established with 13 districts that cover an area of 20,300 sq. km.
4. Gandaki Province
Gandaki Province neither has the highest coverage area neither the lowest. It includes 11 districts including the travel capital of Nepal Pokhara as its head.
5. Lumbini Province
Lumbini province entitled to the birthplace of Lord Buddha is established by 12 districts which cover land 22,288 km². The capital city of Lumbini is Deukhuri which lies in Dang District.
6. Karnali Province
Karnali Province is the largest province of Nepal in terms of Land and the smallest by its population with a density of only 56 people per square kilometers. It includes 10 districts, therefore, covering 27,984 square km of land. The capital city of Karnali province in Birendranagar.
7. Sudurpashchim Province
This province is a modified and conversion of Far Western Development Region and contains all the 9 districts of FWDR. It covers 19,915 sq. km which makes it the second-smallest province of Nepal by Area.
You May Like: Why did Britain never succeed in Colonizing Nepal?
Map of Nepal with 7 Provinces and Their Capitals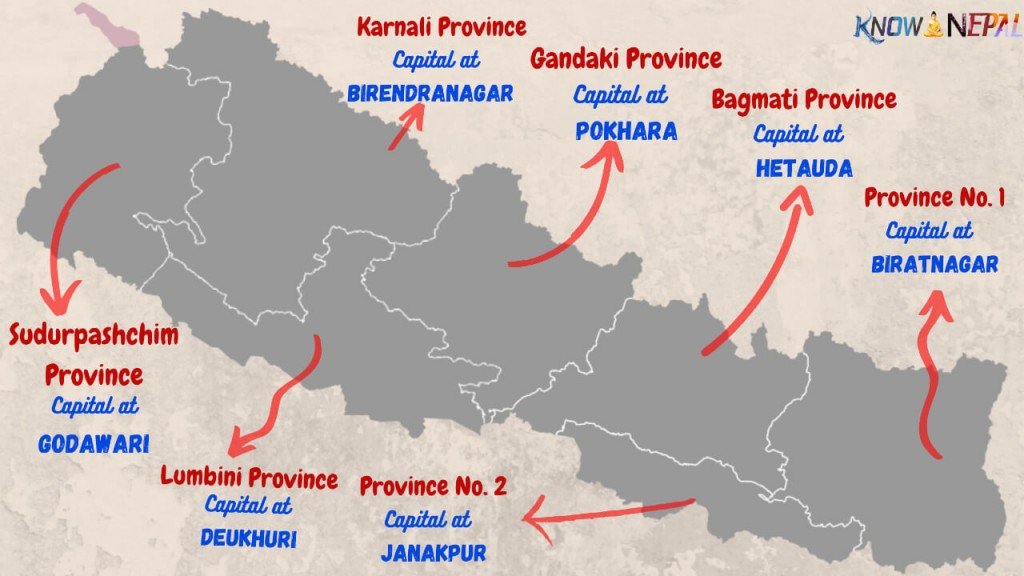 Division of Nepal -Nepali Date B.S.
On the 3rd Asoj of 2072, the New constitution of Nepal came into effect, and therefore in accordance with the new constitution Nepal was divided into 7 provinces and 77 districts on 3rd Asoj, and the day was marked as Constitution Day (संविधान दिवस).
The New Political Map of Nepal