Jaganath temple is beautiful a Hindu temple located in the heart of the baitadi district (province no 7 or Sudurpaschim Pradesh)in its headquarter Gadi. It is about a 5-minute walk from the center Gadi. Jagannath Temple is the most visited and attractive temple of baitadi. Many people from inside and outside of the country come here during festivals and rituals. The temple is famous for its unique design and its architecture. Many rituals are conducted during the year. Being in the center of baitadi around 500-1000 peopled visits this temple to get blessed. The temple is painted with yellow and alike buttered rum color you can say light red colour also. Rather than painting with color it looks more like painted with a special type of reddish-brown soil. The temple looks much beautiful on observing from distant. The upper part of the temple is painted in yellow makes a special design. This color combination has made the temple much more attractive. During Dashain, many people come here to conduct rituals and poojas and to worship wishing for their happy and joyful life.

My visit to Jagannath Temple: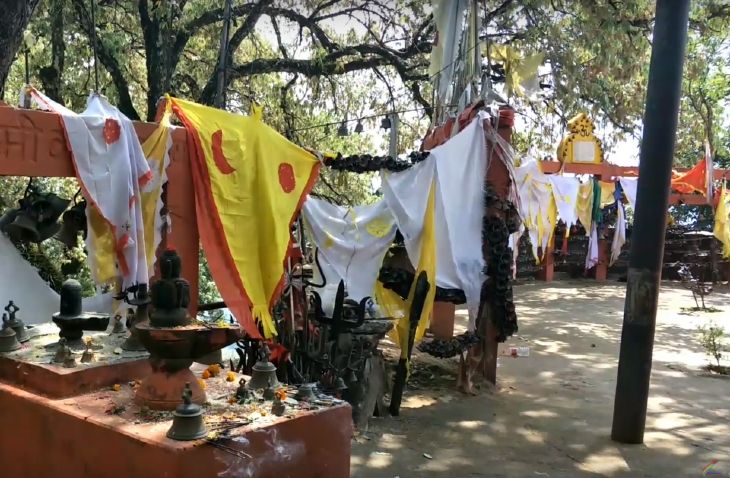 Last year I was in the headquarter of baitadi for my personal works in the Dashrathchand Municipality head Office so after finishing my work at 4 o'clock in the evening I decided to visit Jagannath temple. It took me about 15 minutes from the DashrathChand municipality office to reach the temple. I was there for the first time so I haven't known much about the places around me. It was difficult to reach the temple but somehow I managed to reach there with the help of locals. When I reached there I got surprised I was not expecting that. The temple was much more beautiful than I ever imagined. The temple was full of people who might be there for just chilling around or evening prayer.
The temple was full of specially designed fabric contained two triangular parts with the sun in one and moon wrapped around the boundary of the temple and trees and some inside the temple. Some of them were of white colour while some are of yellow colour and with white fabric on the edge. I found them alike the flag of Nepal but different in colour and shape a little bit. The flag of Nepal contains right-angled triangular-shaped pinions while these were much like an equilateral triangle-shaped. They are locally called Nejaa and are offerings made by the people.
 
I was just chilling around and then I noticed a brahman coming towards me and he put tikka in my forehead and blessed me. Tika is a red or yellow or white mark generally made on the forehead in Hindu traditions. He suggested me to take part in the evening prayer. The prayer started at 6 o'clock and I stayed in the prayer for about 15 minutes. As it was already late so I decided to return back.
 
If you got a chance to visit or stay around baitadi you should once visit this temple. 
Read: visit to Gwallek Forest and Tripura Sundari Temple
Location of Jagannath Temple in Map