Phewa Lake,Pokhara | Everything You Need to Know
Pokhara is considered to be the main gateway to the great mountain ranges. It's the starting spot for trekking to Tilicho lake (Lake located Nepal in the height of 4919 m in the Annapurna Himalayan range), Jomsom, and Annapurna mountain range as well. Devils fall, Mahendra cave area also two amazing tourist spots of Pokhara.
When it comes to visiting Pokhara, Boating on Phewa Lake might be the first thing that comes to everyone's mind. But there's a lot to do in Pokhara and spending a good amount of time exploring the spot could really make your travel memorable and experiencing. So, Let me give you a virtual trip to Phewa lake which you could turn into real one anytime.
Related: 12 Amazing Things not to Miss to do in Pokhara
Things You Need to Know About Phewa Lake
Phewa Lake(or Fewa) is a semi-natural freshwater lake with crystal clear water surrounded by rani ban or queen's woods and stunning reflection of the Annapurna and Dhaulagiri mountain ranges. Though its size has decreased over the years, Phewa Lake is still the second biggest lake in Nepal.
The lake reflects the Annapurna ranges and Mount Machhapuchhare, lending vacationers with a most stunning view. It's also a perfect place to experience the so glorious Himalayan sunrises. The eastern shore is popularly known as lakeside, where you will discover several resorts, cafes, restaurants, cafes, bookshops, and souvenir stores to roam around.
Barahi Mandir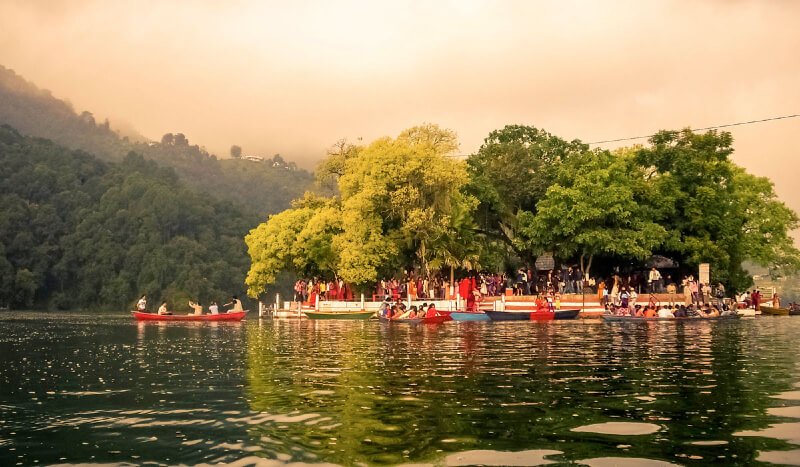 The lake has a temple at its centre, popularly known as Barahi Mandir. This is situated on an island in the lake. The pagoda-style temple is unique in its setting and structure. It is dedicated to Lord Vishnu and could be reached by boat. Boating is one of the principal tourist attractions. The lakeside is perfect for a boat ride in a quiet afternoon with the Himalayan ranges as a backdrop.
One can hire a colourful boat called Doonga locally and sail throughout the lake for a relaxing ride. It's some religious significance, too, as it is famous for the sacred Tal Barahi Temple situated on an island in the lake. The densely populated area around the lake has thrilling trails that lead up to high grounds.
General Information about Phewa Lake
Location: Kaski District, Nepal
Area: 4.43 km²
Length: 4 km
Max. depth: 24 m (79 ft)
Average depth: 8.6 m (28 ft)
Surface elevation: 742 m
Boating at Phewa lake
In Phewa Lake, you can select which sort of ships you'd love to get, the boats (the old fashioned one united two ships with boards and pedals at the centre), rowboats and sailboats. There's also a choice between fibred-body sailboats and wooden ones. You can undoubtedly do boating in Pokhara valley during the year except for monsoon. Begnas and Rupa Lakes are also outstanding vessel lakes. These lakes are divided by a forested mountain termed Pachabhaiya Danda and may function as a beautiful escape.
You May Like: 10 Top Tourist Destinations in Western Nepal
You can experience hour-long boating, lakeside walking, cycling, and vibes that will be a lifetime experience allowing yourself to realize the value of life and nature.
Down at the Terai, the Narayani and Rapti rivers are famous for canoeing. The memory cannot be deleted being collective with Gangetic dolphin in the Narayani and lovely migratory birds, gharial, along with other wildlife within Chitwan National Park.
Hope this short description of Phewa lake will make your future trip to Pokhara much remarkable and experiencing.