12 Amazing Things to Do in Pokhara | Best places to see
When it comes to visiting Nepal and spent time in Nepal Pokhara might be the first option that comes to mind. But Pokhara in itself contains many tourist resources so it becomes difficult to choose places to visit and things to do within less time and on a limited budget. Though most of the tourists have enough budget to explore all the Pokhara and the whole of Nepal the problem is they don't have much time. So choosing the best thing to do and the best place to see in Pokhara plays great importance in making your trip enjoyable and a lifetime experience. While the bad choice might lead your trip to a lifetime worst experience. So check out our list for the top 12 Amazing Things you can do in Pokhara and places to see in Pokhara below.
Pokhara is considered to be the main gateway to the great mountain ranges. It's the starting spot for trekking to Tilicho lake (Lake located Nepal in the height of 4919 m in the Annapurna Himalayan range), Jomsom, and  Annapurna mountain range as well. Devils fall, Mahendra cave area also two amazing tourist spots of Pokhara.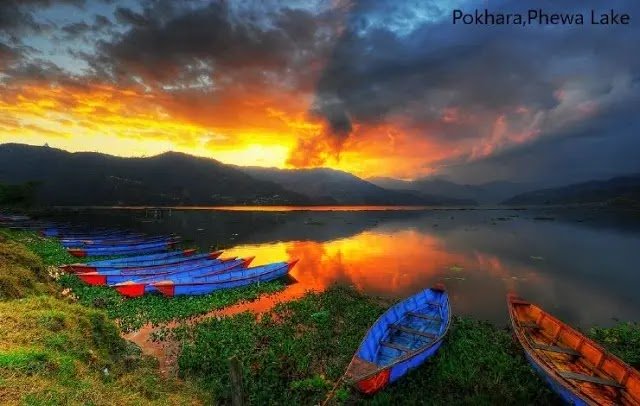 Here is our list of Top 12 Amazing Things to do in Pokhara:
1. Phewa Lake boating:
Boating in Phewa lake is one of the most popular activities of tourists in Pokhara. If you love nature and boating then Phewa lake boating is meant for you. This could be the best thing to do in Pokhara. You can enjoy the beauty of and the pleasant environment of Phewa lake keeping you away from all the noise and the pollution. Stay Healthy at Pokhara Check Out: Healthy at home
2. Paragliding :
If you love adventures and heights than the first thing you should do in Pokhara is to go for paragliding. Sunrise Paragliding of Pokhara could be a lifetime experience. Paragliding provides you an opportunity to enjoy the great view of mountains with Pokhara and from high altitude. It will cost you about 7000 NRS-20000 NRS depending upon the type of flight you choose.
3. Bungee Jumping
This could be the other best thing to do in Pokhara for adventure lovers. Pokhara Bungee Jumping is the highest water touch Bungee in the world. So if you are planning for Pokhara you should not miss the opportunity to jump from the highest water touch Bungee. If you love adventures then Pokhara Bungee Jumping is not going to disappoint you
4. Tal Barahi Temple
Tal Barahi temple located in the center of Phewa Lake is a small and quiet beautiful island. It is a two-story temple built in pagoda style. If you are planning to take boating in Phewa lake you should think of stopping at Tal Barahi temple.

Also Read : A Place Where You Can Seek Blessings
5. Begnas Lake
If you want to relax in a peaceful, natural and lakeside environment you should add this place to your list. It is a freshwater lake located in the south-east of the Pokhara Valley. Most of the tourists visit this place for boating, fishing & swimming. So if you love boating, fishing & swimming don't forget to add this place to your list of things to do in Pokhara
6. Seti river rafting
Short Seti river rafting is sweet adventurous river rafting. If you want rafting experience in a short time then you should go for it. It will only take half an hour to have experience of rafting. Seti river rafting provides the adventurous river rafting through the mountains and beautiful forest areas.
Check out : Freshwater Fishing tips
7. zip flying
Ziplining is also one of the incredible thrilling adventures you can do in Pokhara. This could be your most unique experience of zip flying in the hearth of mountains and nature. It is about 1.8km long with a 600m descent. So if you want a thrilling experience in the beautiful sunrise then you should try it once.
8. Mahendra Cave
If you have enough time to chill around the Pokhara and you love caves and ancient type of stuffs you should surely visit Mahendra cave. Thousands of the tourist rich Mahendra cave to explore per month. The cost of entering the cave varies according to your nationality. But it will not cost much compared to other tourist areas.
9. Devi's Falls
Devi's Falls is a famous waterfall and a tourist loving spot of Pokhara. If you have never seen waterfall than you can go here and spend some of your time watching the waterfall and observing nature.Though if you have seen the waterfall than this place might be a little disappointing to you.
10. Sarangkot sunrise
The view of the different Himalaya from Sarangkot is one of the most loving and attractive experience for the tourists. From here, you can see a panoramic sweep of Himalayan peaks, such as Dhaulagiri Machhapuchhare, the peak of Annapurna II to Lamjung in the east. Most of the tourists like to visit this area during the sunrise or during the sunset. So you should not miss a chance to enjoy beautiful views of different mountains at the same time from the same place.
11. Mountain biking
If you love adventures you should probably think for a Pokhara mountain biking adventure. You can ride to different other tourist spots with fantastic experience and adventure. The biking will be a more enjoyable and efficient experience if you planned to take a ride with your friends and family.



12. Annapurna Circuit Trek
Annapurna Circuit Trek might be time-consuming and of course and a little bit of costly, that's the reason why we placed it into number 12 as it is a trek within the mountain ranges of central Nepal. But this could be the best lifetime experience of mountain trekking. So if you love adventures then you should think of it.
#A Bonus: Thing to do in Pokhara
Ballooning
If you want to observe the whole of Pokhara and the mountains alongside it from a height of 1000 ft then ballooning could be the best option for you. You will be able to enjoy the view of the mountain such as  Lamjung Mountain, Dhaulagiri, Machapuchare, Annapurna mountain range, Himchuli, Manaslu. The cost depends on the package you choose and the time you want to spend up there in the high sky.

If you think we have missed out any amazing thing to do in Pokhara you are free to leave a comment  and also don't forget to check out
Check:  Surprising facts about Nepal  and 10 top tourist destination in western Nepal