History of Paddy Plantation Festival of Nepal
Rice is the major crop in the world. Its scientific name is Oryza sativa. According to research, rice is one of the oldest crops. It was cultivated thousands of years ago. But no clear facts have been found about how its seeds were developed. Rice is the source of rice that we eat every day, and rice is the source of rice. About 3 billion 500 million people in the world, i.e. 60 percent of people, have rice as their main food. In Asian countries, more than 90 percent of people live by eating rice-based food.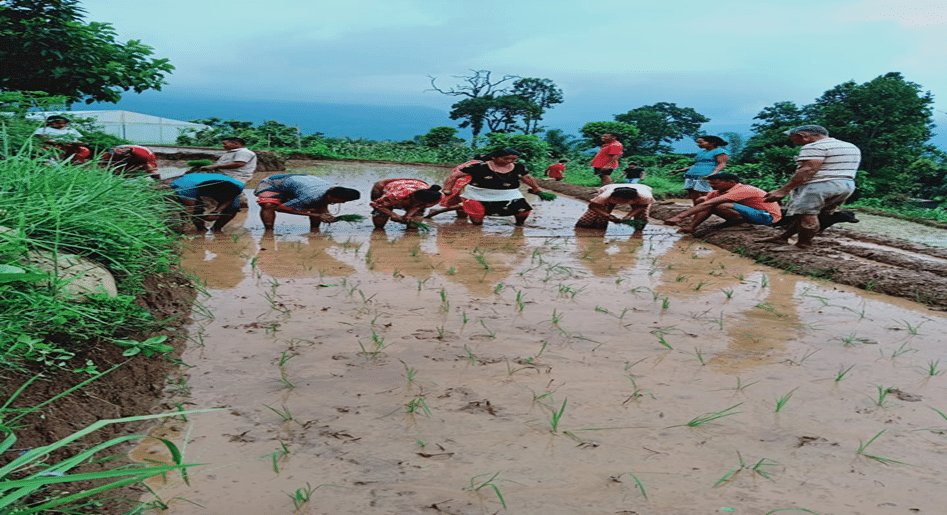 Rice cultivation in Nepal has a long history that predates recorded documentation. It is believed that rice farming was introduced to the region around 3000 BCE, most likely through migration from the Indian subcontinent. The fertile plains of the Terai region, along the southern border of Nepal, provided favorable conditions for paddy cultivation, leading to the establishment of early settlements and the development of agriculture-based societies.
Over the centuries, various indigenous communities in Nepal developed their unique agricultural practices and methods for paddy cultivation. These practices were passed down through generations and varied depending on geographical location, climate, and local customs. The traditional method of paddy cultivation in Nepal often involved manual labor, with farmers plowing the fields using wooden plows, sowing the seeds, and transplanting the seedlings by hand.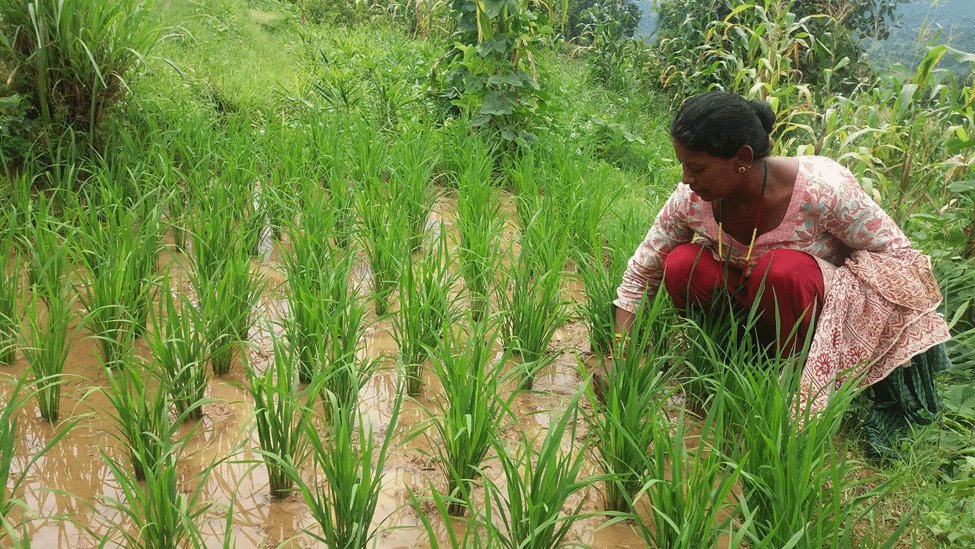 Paddy is the most important crop of the Nepalese People. A maximum no of people has used it as food on a one-time eating schedule daily. The day is marked as the beginning of the paddy plantation. Farmers are celebrating Asar 15th, across Nepal's hilly and Tarai regions today. Even the mountainous lands are not favoring paddy grains. This day carries a unique and national significance among the farmers of Nepal, a country where the principal economy is chiefly based on agriculture.
National Paddy Day. This day is popular in Nepali society as a day to eat curd. Asar 15 (June 15), which is considered the month of 'growing sugarcane with fistfuls', is celebrated as Paddy Day, Ropai Jatra, Ropai Diwas, etc. throughout Nepal. Agriculture is still the occupation of most people in Nepal, a predominantly agricultural country.
The rice seeds kept in May are planted after June. Paddy, which is considered as an annual food crop, is planted all over Nepal. In Nepal Since 2062, Asar 15 has been celebrated as National Paddy Day. The United Nations as the year of paddy crop to get rid of hunger for the first time also celebrated the year 1966.
Paddy is also categorized by various names that as Chaite paddy, Barse paddy, and Ghaiya paddy which are cultivated in Nepal. It is estimated that the production of paddy here is 3000 kg per hectare. In Nepal, out of 86 Raithane varieties of rice, 7 Raithane varieties of rice are cultivated. About 2,963 types of Raithanne seeds from 72 districts of Nepal are preserved in the gene bank with the support of the International Rice Research Center (IRI). From 1966 to 2009, IRI recommended 864 types of rice varieties in 78 countries of the world using rice varieties.
Celebrating Paddy Day is believed to encourage farmers to continue in the agricultural sector. Despite being an agricultural country, this day has given more encouragement to increase the importance and production of rice, which is the main food crop of Nepal, to eliminate the increasing dependence on agriculture. According to the Ministry of Agriculture statistics, about 14 lakh 25 thousand hectares of land are suitable for rice cultivation in Nepal. Due to the increase in rice production, Nepal's main food crop, the total domestic production also increases and the economic status of the farmers rises. The agriculture sector contributes 38 to 40 percent to Nepal's gross domestic product. Therefore, the planting of the main crop rice has great importance in agricultural work. Therefore, Paddy Day is not limited to June 15th but has been celebrated with a week-long program.
Even though the Nepali economy is mainly agricultural, the country which used to export rice until a few years ago is now feeding its people by importing billions worth of rice. In 11 months of the current financial year, rice has been imported worth 31 billion.
Nepal is the country where paddy cultivation is at the highest place in the world. Paddy is also planted in Kechna of Jhapa, which is 70 meters above sea level, while rice is also cultivated in Chumchaur of Jumla, which is 2,780 meters high. Thus, rice farming in Jumla is said to be the highest place in the world. Marsi paddy of Jumla is a paddy known all over Nepal. Jhapa is the district that produces the most rice in Nepal, while the least amount of rice is produced in Mustang district. In Nepal, paddy has been cultivated in places with a temperature of 25 degrees Celsius to 32 degrees Celsius. Among the SAARC countries, India produces the most rice followed by Bangladesh.
The introduction of modern agricultural techniques and infrastructure in the mid-20th century brought significant changes to paddy cultivation in Nepal. The government of Nepal, along with international organizations and development agencies, promoted the use of improved seed varieties, mechanized farming equipment, and irrigation systems to increase agricultural productivity and reduce dependency on traditional methods.
In recent years, Nepal has faced various challenges in paddy cultivation, including land fragmentation, water scarcity, and climate change impacts. Efforts have been made to address these challenges through the promotion of sustainable farming practices, the adoption of hybrid and high-yielding rice varieties, and the development of irrigation facilities.
Paddy cultivation remains a vital sector of Nepal's economy and a crucial source of livelihood for millions of farmers across the country. Rice festivals, such as the popular "Asar Pandra" or "Ropain Festival," are celebrated to mark the beginning of the rice planting season and reflect the cultural significance of paddy cultivation in Nepal.
Nepal is primarily an agricultural country, and rice is a major staple crop in the country. However, Nepal's rice production is not sufficient to meet the total domestic demand, and the country has been importing rice to fulfill the shortfall.
Nepal's rice production is influenced by several factors, including variations in climate, land availability, agricultural practices, and technological advancements. While efforts have been made to improve rice production and productivity, challenges such as limited arable land, water scarcity, and traditional farming methods have affected the country's self-sufficiency in rice.