5 Most Popular Personalities of Nepal – The Heroes of 21st
Some people in the world are successful in creating their own identities through their actions. They are the source of inspiration and help in social and economic development. There are some great personalities of Nepal who have made a great contribution to the development of today's society and we living of Nepalese.
The 5 Personalities of Nepal that dedicated their lives to the welfare of others and Country.
1. Anuradha Koirala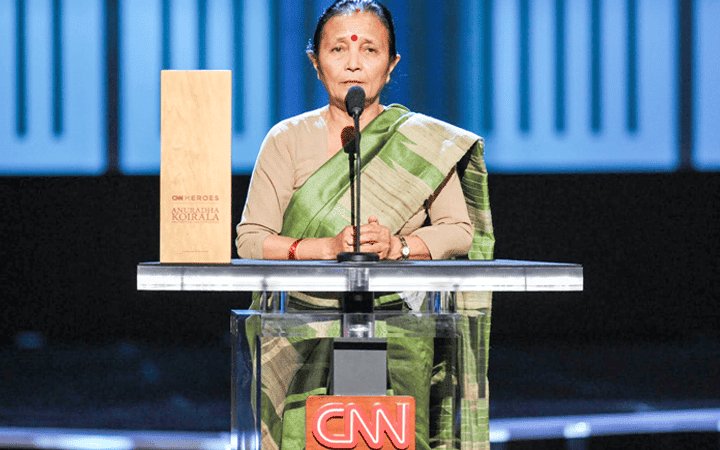 The first famous name is Anuradha Koirala. She was born on 14th April 1949. A social activist of Nepal, widely recognized and well known as Mother Teresa of Nepal. Her eagerness makes a high contribution to social development. After completing her education, she started her career in the social development sector. She was inspired by the work of Mother Teresa. With more than twenty years of teaching experience in different educational schools and colleges around the capital city of Nepal, she was not satisfied with her jobs and thought to work in the humanitarian sector.
She is the founder of the Nonprofit organization Maiti Nepal, which means Mothers' homes that are needed for support in sustaining their life from the effect of Mainly sex Trafficking. Children girls and women were being supplied from Nepal for monetary purposes, sexual exploitation. Maiti Nepal is the helping hands for children and women for their untold pain which is commonly not shared in others and often in silence.
Anuradha's life turns around firstly when she visits the famous temple of Hindu belief Pashupatinath. she saw the healthy woman had taken bagging activities. After listening to her history and suffering, the pain that sexual assaults, domestic violence created on her mind, and how she turns around the profession of bagging. She finds out the clue of self-independent entrepreneur idea to relieve the misery of the women involved in the begging profession.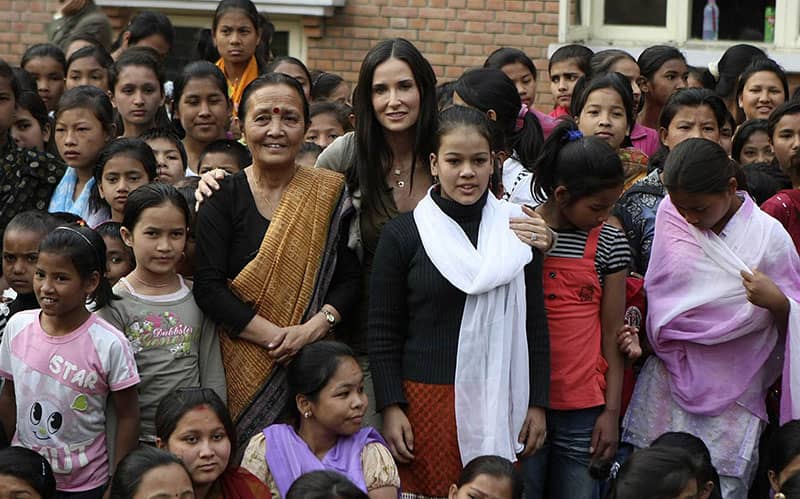 She helped those women by handing over one thousand for the provision for social entrepreneurship development. She kept the provision if she provides 1000 rupees to a target group then they should use their amount on entrepreneurship like doing a job or anything, and then return the amount to her two rupees per day.
She started Maiti Nepal in a small house in Kathmandu with her savings, today Koirala is a widely known evolutionist and lecturer who has dedicated her life to combating the trafficking and use of women and children. She was the first govern of Bagmati provinces. Anuradha is called Dijju which means elder sister. She is working as a child rights activist woman rights activist, woman trafficking, child trafficking, bonded labor.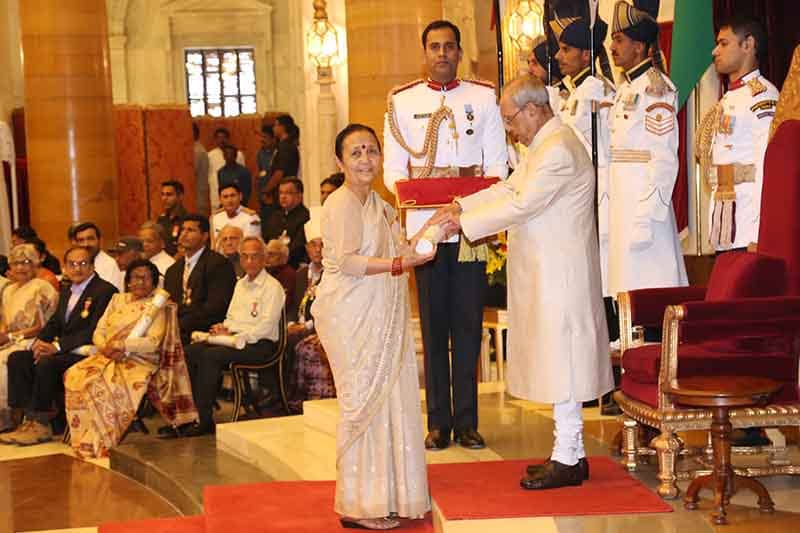 Anuradha Koirala wined the CNN Hero Award 2010 and received Padam Shree from the government of India.
2. Sanduk Ruit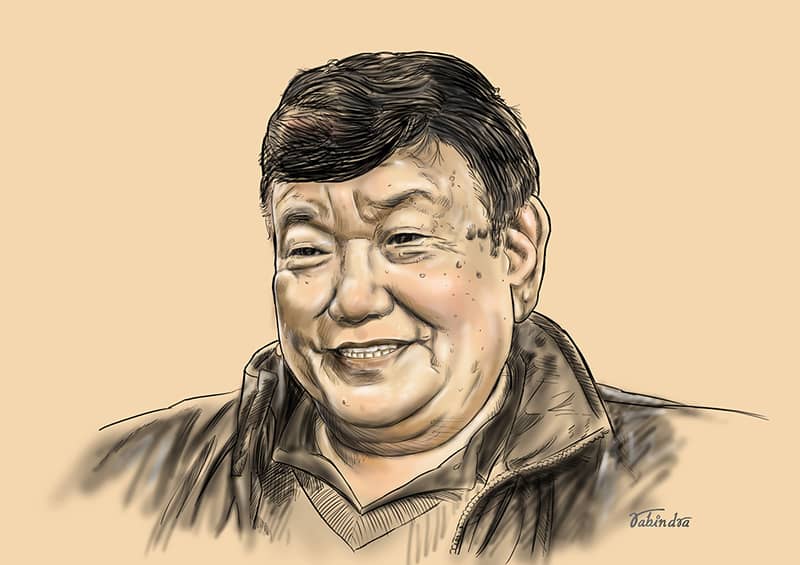 Sanduk Ruit, one who gives eye power treatment to poor needy people, those who can not afford the treatment on their own. The EYE GOD of Nepal has helped many people by eye transparency and giving the light of eye to the blinds and who can't see.
Ruit was the first Nepali doctor to perform cataract surgery with intraocular lens implants and the first to pioneer a method for delivering high-quality microsurgical procedures in remote eye camps.
He had a bad experience in history, his sister died suffering from tuberculosis diseases due to lack of sufficient treatment money. These things hurt him badly, He did not easily recover from the pain. That is what set dedication and led him to become a doctor.
His Devotion was very focused on human welfare development. After meeting the brad(mentor) his lifestyle is diversely changed on his behavior, he accepted on will power and work harder in the main point for achieved his destiny. He is the founder of Tilganga eyes hospital, he produces the cataract product and serviced facilitated on property line members. Now more than fifty countries take the cataract product. Now Nepal is dependent on eye care treatment services. in A.D. 1994, Rauit had a greater contribution to overcoming the 0.8 % with cataracts the major cause.
Sanduk Ruit was born in Olangchungola, a remote village in Eastern Nepal — so remote the nearest school was a week's walk away. And there were no health posts. Ruit was the first Nepali doctor to perform cataract surgery with intraocular lens implants and the first to pioneer a method for delivering high-quality microsurgical procedures in remote eye camps.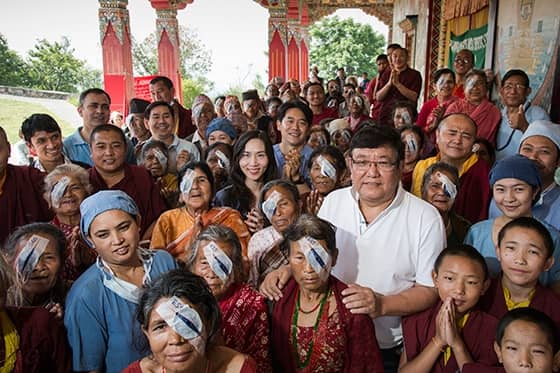 He treated more than one lakh eye problems cases in his initiations.
Dr. Ruit has received several prestigious awards in the field of international health. He received Asia noble prize Ramon Magsaysay Awards and Padam Shree from the Government of India. He is the source of Nepali people who want to contribute to the country and humanity.
Related: 5 Nepealse Who Were Honored with Ramon Magsaysay Award
3. Bhagawan Koirala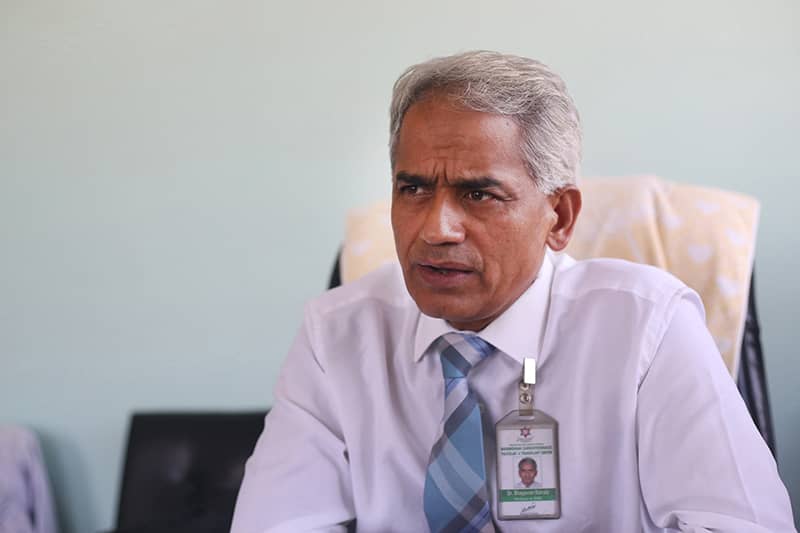 In the medical science sector, there are more than a dozen professionals are famous for their different activities. Dr. Bhagwan Koirala is one of them, he is not only a heart surgeon but a professor and Social worker. He is best known for leading the team of Nepalese surgeons that began Open-heart surgery in Nepal first time. He leads the various hospital and research centers by their well managerial management. Firstly, he joined his career in the health sector in Nepal's first hospital Bir Hospital.
He has provided free treatment services for heart diseases patients. Dr. Koirala Completed his school education in his hometown Palpa. Palpa district is famous as the thread cap hub of Nepal. He completed his post-graduated from Cardiovascular diseases of Dhaka university. He got a fellowship from Toronto Canada.
Dr. Koiral later connected with teaching hospital, and after returning from Canada he joined the newly established hospital Shahid Gangalal National Heart Diseases center as chief executive director. He served more than a decade in a Gangalal hospital as a senior open-heart surgeon.
He has resolved the critical diseases of a patient. He is involved with numerous social and charitable organizations. His ideal motto is: "no child in this country shall die of heart disease because of poverty". He led the Jayanti memorial trust and karuna foundation both organizations that help heart disease patients. currently, he is chairperson of the National medical council from 2019.
4. Govinda K.C.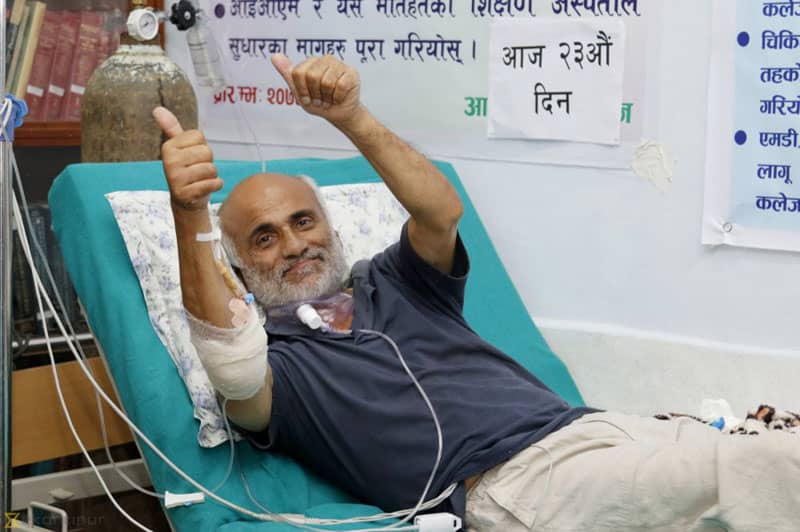 Govinda KC is the most popular legend of Nepal. Who doesn't know him? Most of us call him Mahatma Gandhi. His loyalty, dedication is famous for expanding the medical science facilities in decentralized rural areas. His born place is Ramechhap, after passing school level he studied health assistant at the Institute of Medicine (IOM) Nepal. thereafter he got the scholarship of the Government of Nepal to study for MBBS Study in Bangladesh. He works as an orthopedic surgeon in Bir hospital. Later he resigns from Bir hospital and joined as a volunteer in the Teaching hospital.
In one television program he shared, He forgot to get married because of his dedication to serving the treatment patients. He is the ideal person of a Nepal professional. Every year he visits the rural area of Nepal to serve medical service on his salary. He never takes any funds to supply the rural area medical services. He is not only the dream dimmer but well implementer legend. He had visited twenty countries to serve the medical services on various epidemics.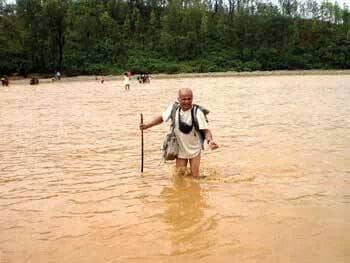 He is famous for completing his demand to the government through the hunger strikes, he had done more than two dozen hunger strikes only to welfare the society. His demand is to expand the advanced health facilities in rural areas and medical education institutions must be open in the rural area where medical access is poor level. So people called him the IRON MAN of the medical science area for Nepali society.
Dr. Kc has been awarded various prizes from Nepal and the international society. His destination is to develop advanced health facility in all over Nepal, not only everything in the capital Nepal.
5. Kul Man Ghising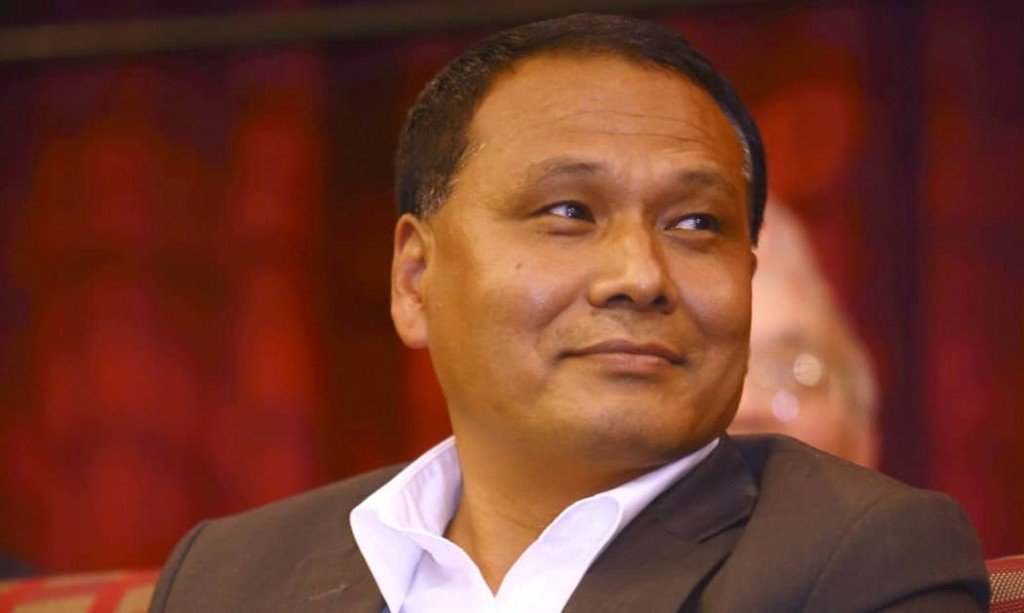 Kulman Ghising is born in an ordinary farmer family in the Ramechhap district of Nepal. He studied his primary level education in Ramechhap. After passing the fifth level he moved to Kathmandu. He passed Bachelor of engineering in electronics. After passing master from India he joined Six level officer in Nepal electricity board. He had led many projects in the department. Currently, he has a second term as managing director of NEA(Nepal Electricity Authority) and now succeeded in winning the hearts of the Nepali people.
At this time the most popular iron man is Kulman Ghising for his dedication to Demand supply management of electricity. Kul Man Ghising is the current managing director of the Nepal Electricity Authority. He is the man who solved the load-shedding problem, whereby, for decades, the country had power outages of up to 18 hours daily, only within a few months of taking office.
Nepal has faced load shedding problems for more than 18 hours per day before in bs 2072-73. To overcome the load shedding problems Kul man selected as executive director to solve this problem. Now, this organization slowly takes up business market expansion strategically. After leading Kulman, the load-shedding problems were solved and the organization grow up on the upper point. His dedication is very much inspirable.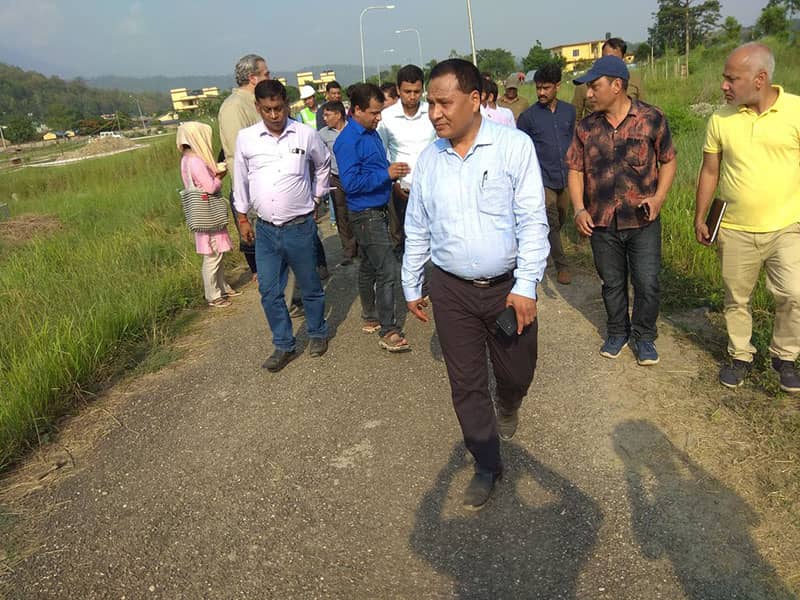 He upgraded the hydro project to produce the added electricity. Kulman Ghising, during his second tern tenure at the NEA, was largely credited for ending the decades-long load shedding 'era' in Nepal and had made the institution profitable.
---
These were the legends and heroes of Nepal, the Most Popular Personalities of Nepal, and heroes of this century. The list doesn't imply these are the only ones. There are heroes and legends in every corner of the country. Thank You to all who dedicated their lives to better the world:)
You may check: 13 Interesting Facts about Buddha most People don't Know