Tripura Sundari Temple Baitadi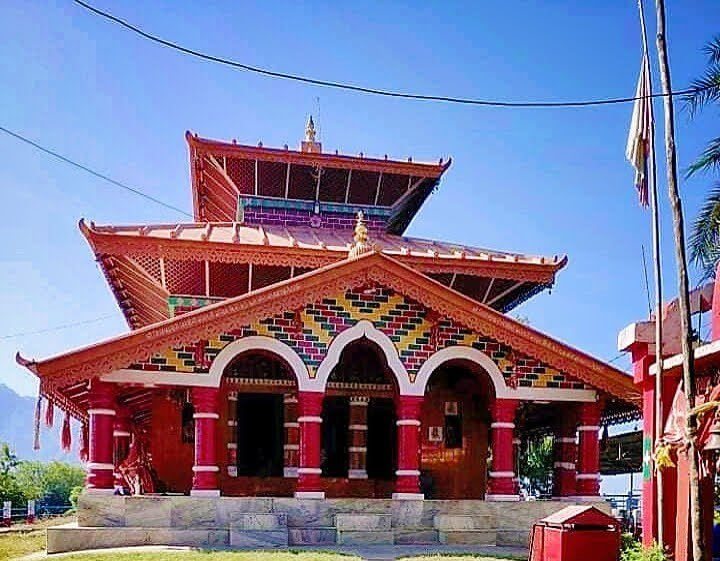 Tripura Sundari is a religious Hindu temple located in Dasrathchand municipality of Baitadi district Nepal about 10 km west(about 20 minutes drive from headquarter) from headquarters of Baitadi. It is one among the seven Bhagwati temples of Nepal. This beautiful temple is located in the middle of the village Tripura in the uphills. Tripura Sundari is dedicated to the goddess Durga. The temple is painted with red which is also considered to be the symbol of the goddess Durga also identified as Adi Parashakti, goddess of war, a symbol of positivity(Divine forces), a hope. According to Hindu mythology, she is a warrior form of goddess Parvati wife of Shiva. She is usually depicted riding a lion and with 10 arms, each arm holding the special type of weapon given by other gods to her for her battle against the buffalo demon.
History  Tripura Sundari
The temples borrow a long story behind its creation and evolution in it. There are altogether seven Bhagwati Temples(Temples of Goddess Durga) in Baitadi. It is believed that these temples seven are devoted to the seven sisters of goddess Durga. This temple is dedicated to Ransaini (one sister among seven ) so the temple is also known as Ransaini Temple.
The Most Popular Celebrations at Tripura Sundari
Many festivals such as Dashain, Gaura, Sankranti, and Jaat are occasionally celebrated in the Temple. Many people from Nepal and India come here for the occasions to celebrate festivals and to worship goddess Bhagwati for their better and happy life and to get blessed by the goddess Durga.
Dashain is a major Hindu festival celebrated all over Nepal in the month of Asoj. During Dashain people come to Tripura Sundari to worship goddess Durga. Jamaras are planted on the first day of tee Dashain and known as Ghatasthapana and are allowed to grow for the next 8 days and on the 9th day of Dashain, they are cut and distributed all over the surrounding villages and cities.
Gaura festival (marriage of goddess Gauri) is a special festival celebrated in the far western part of Nepal occasionally in the month of Bhadra. This festival is also known as Gaura Parv and locally Gora and sometimes as Gauri Parva. Gaura festival is actually the wedding of Goddess Gaura and Lord Maheswore. This festival is famous for its unique dance known as Deuda dance. In this dance participants, hold their hands forming circle and moves in a circle.Normally Gaura Parva(Festival) is celebrated for 5 to 6 days but sometimes for 7 days which dependnding upon the situation.
Gaat is another special festival celebrated in every temple of Baitadi. Thousands of people come here to celebrate this festival from all around Nepal and India. In some temples, Gaat is celebrated twice a year but once in many temples, it is celebrated once a year only. Many bull and buck are sacrificed in these occasions by the peoples. It is believed that sacrificing bucks or bulls in the temple brings happiness in the family and keeps family members safe from any danger.
A Visit to Tripura Sundari
Last year I got the chance to visit this place during the month of Mangsir On the occasion of the festival Jaat. I woke up in the morning at 6 o'clock and headed from headquarter to temple at 7 o'clock in the morning it took about 20 minutes to get there by bus. when I reach here I found that I was already late the festival has already begun at 6 o'clock in the morning. The temple was full of people from all around baitadi and the nearest districts. There were many food and toy shops for children around the outer boundary of the temple.
I noticed groups of people gathering around with their relatives, families, and friends. Many people were there with goat and bull to sacrifice them in the temple. Inside the main temple, I noticed the God was being worshipped by local brahmins sometimes known as Pujaris. when the Pooja completed everyone got a tikka in their forehead from brahmins and I got too. Now it was time to sacrifice those animals. It took about an hour Sacrifier all those animals and then it was finally time for people to get back to the home. so I also decided to get back to headquarters so I picked up a bus to the headquarters at 3 o'clock in the evening
Read about another Sister Temple Melauli Bhagwati Temple
Location In Google Maps: